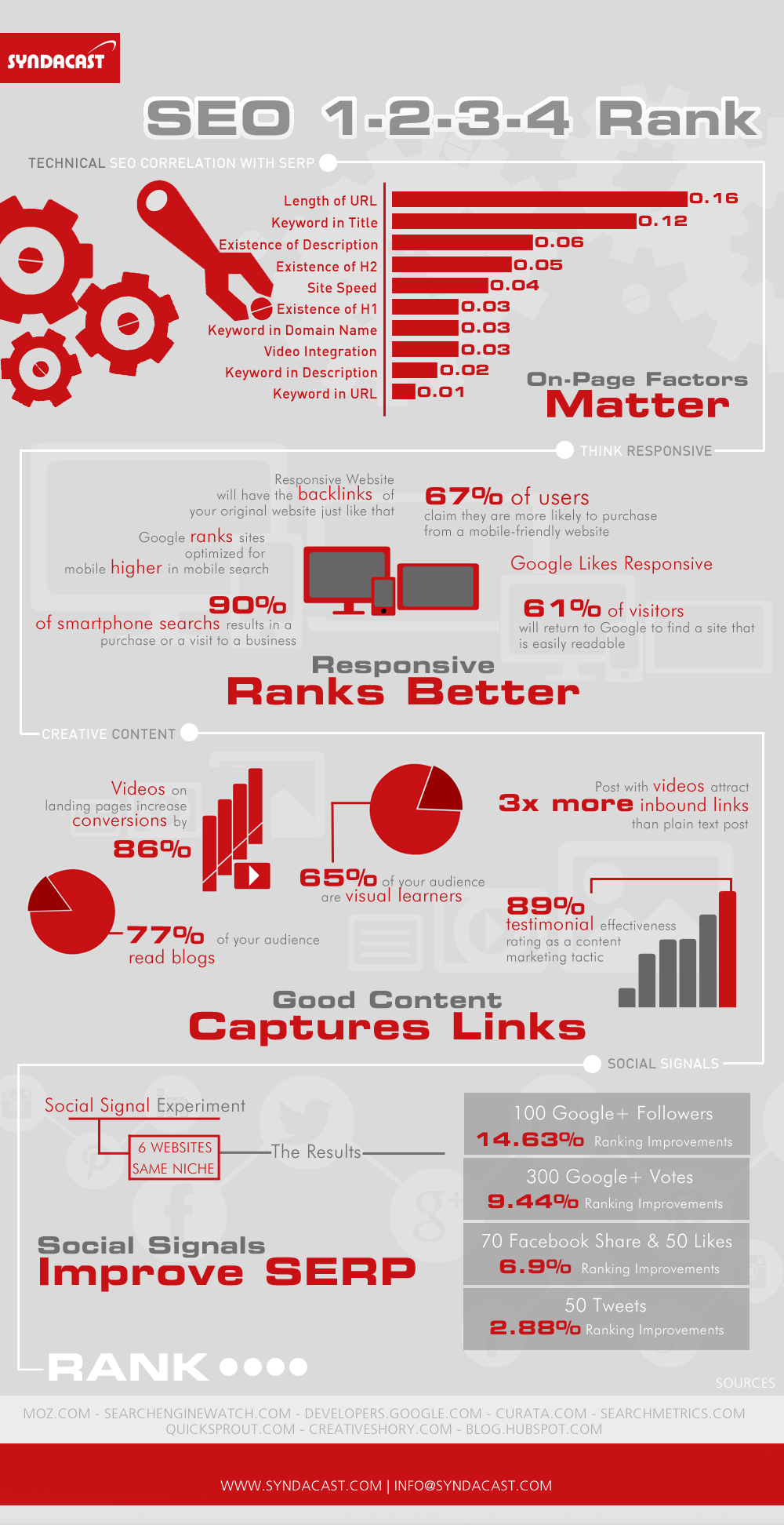 There are total of 200+ ranking factors; a fact that we all know but how do each factor actually effect your website rankings? This infographic serves as a good starting point to gain more insights into what you could do to help improve your website's organic ranking in Google and other search engines.
TECHNICAL SEO CORRELATION WITH SERP | ON-PAGE FACTORS MATTER
Length of URL: 0.16
Keyword in Title: 0.12
Existence of Description: 0.06
Existence of H2: 0.05
Site Speed: 0.04
Existence of H1: 0.03
Keyword in Domain Name: 0.03
Video Integration: 0.03
Keyword in Description: 0.02
Keyword in URL: 0.01
THINK RESPONSIVE | RESPONSIVE RANKS BETTER
Responsive Website will have the backlinks of your original website just like that
Google ranks sites optimized for mobile higher in mobile search
90% of smartphone searches results in a purchase or a visit to a business
67% of users claim they are more likely to purchase from a mobile-friendly website
Google Likes Repsonsive
61% of visitors will return to Google to find a site that is easily readable
CREATIVE CONTENT | GOOD CONTENT CAPTURES LINKS
Videos on landing pages increase conversion by 86%
77% of your audience read blogs
65% of your audience are visual learners
Post with videos attract 3 times more inbound links than plain text post
89% testimonial effectiveness rating as a content marketing tactic
SOCIAL SIGNALS | SOCIAL SIGNALS IMPROVE SERP
Social Signal Experiment: 6 websites, same niche.
The results:
100 Google+ followers: 14.63% ranking improvements
300 Google+ votes: 9.44% ranking improvements
70 Facebook share & 50 likes: 6.9% ranking improvements
50 Tweets: 2.88% ranking improvements