On October 1st, 2014 Syndacast will hold an event, Digital Summit: Online Solutions for Hotels 2014 at the Amari Ocean Pattaya.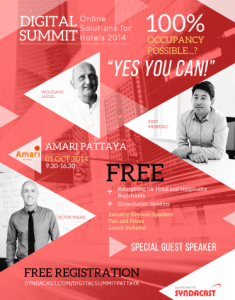 The event is focused on Hotel and Hospitality sectors, focusing on the effective use of digital media in the respective niche. The event will host several interactive workshops and Q&A sessions.
The event will feature keynote guest speakers:
+ Wolfgang Jaegel, Syndacast Founder & CEO
+ Doy Moreau, Chief Marketing Officer
+ Oliver Wilke, Head of Business Development
+ Special Guest Speaker
In addition to the event, guests will receive FREE lunch and a chance to win 1 of 3 lucky draw prizes.
To register for the event, please click here.